We braved Beijing's rush hour to walk to the Stanford Center at Peking University this morning. There was even more activity on the streets compared to yesterday—longer lines of cars, bigger crowds of bikes and pedestrians. We arrived at the Stanford Center, which sits in a quiet corner of the PKU campus, otherwise known as 北大 in local parlance. It's built as a fusion of Eastern and Western architecture—a traditional Chinese 四合院 courtyard at ground level, with two stories of modern offices, lounges, meeting rooms and a sunlit atrium underneath.
There's a height restriction in this area because the 圓明園 Gardens are nearby, so Stanford decided to drill down and expand underground instead. The funds for this center were contributed by a number of Stanford alumni, and a variety of programs such as the School of Medicine and the Graduate School of Business rent offices in order to use the space. (Sorry, no free lunch.) While inside, we also visited the Highly Immersive Classroom (HIC), the room where we had so many of our teleconference exchange sessions.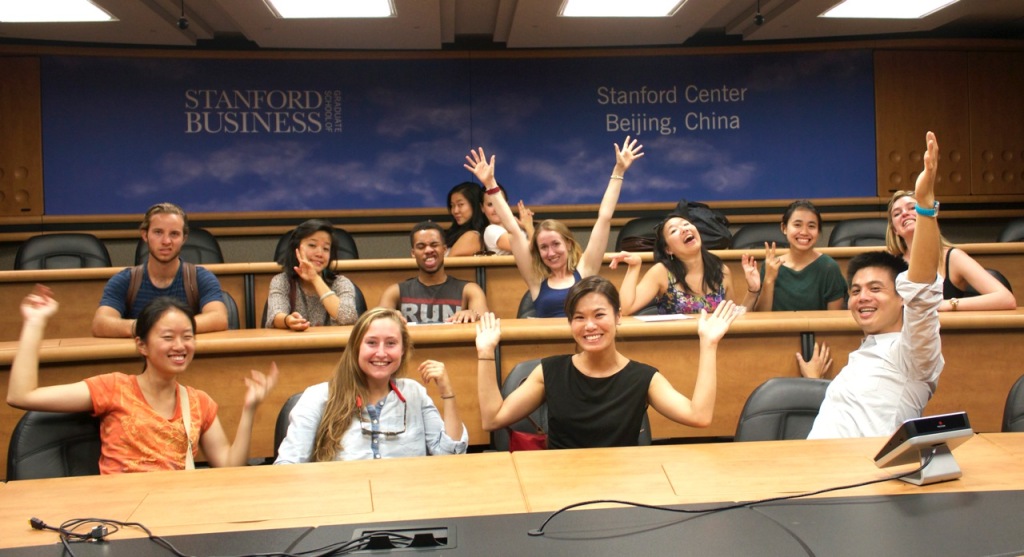 This part of the Peking University campus, where various research institutes and centers are located, is quite different than the wing of Tsinghua University where the Academy of Art & Design sits. PKU is more vegetated, with lush trees and scenic paths. It resembles exurbia—single (expensive) buildings surrounded by greenery—in contrast to Tsinghua's more "metropolitan" layout, with departmental buildings closer together, which facilitates opportunities for collegial meetings and exchange. (Though perhaps the heart of the Peking University campus is closer to Tsinghua's ordered landscape.) Please see Caroline Nowacki's blog post for further discussion about the urban design of the two academic areas we've experienced.
Coming Together for an Adventure
In the afternoon, we had the official kick-off session for this joint workshop. The crowd of Stanford and Tsinghua students were introduced to the major goals of the workshop and the projects they will complete over the next two weeks.
The session concluded with a talk by Richard Hsu, TEDx ambassador in China. He showcased examples of design projects around the themes of "Human" and "City", including Taipei, Taiwan (named the world design capital for 2016); Milan, Italy; Rio de Janeiro, Brazil; Penang, Malaysia; Rotterdam, Netherlands; and even Braddock, USA.
The View from Dinner
We finished up with a meal at a vegetarian restaurant. Every dish was satisfying, although near the end, it began to feel like "Lord of the Rings: The Return of the King." A dish would be served with an air of finality—"The white rice is here, that's got to be the last thing!" But as soon as we finished that "last" plate, another dish would sail onto the table, and the meal would continue. "Okay, dumplings. The final item." "Those mushrooms should probably be the end of it." Luckily, the laughter and good cheer also kept flowing tonight.